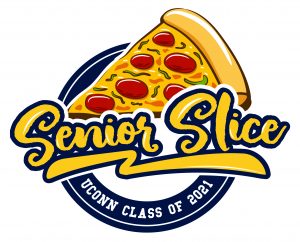 Dining Services is launching Senior Slice!
Like Senior Scoop, we are looking to make this a fun and tasty UConn tradition for the senior class.
Members of the Class of 2021 can build and submit their favorite kinds of vegan and non-vegan pizzas.
Dining Services will then select a few finalist pizzas for seniors to vote on. The winning vegan and non-vegan pizza will be served at McMahon, North, and USM this spring. Stay tuned, more locations may be added!
More than one idea can be submitted. Please submit your ideas by the end of the day on February 28th:  https://dining.uconn.edu/senior-slice/
Questions: Contact DDSMarketing@uconn.edu