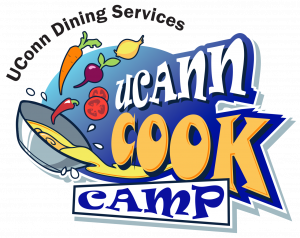 During the summer UConn Dining holds two culinary camps for kids aged 10-13. Each camp is two days and includes working one-on-one with our chefs to learn kitchen basics, creating recipes, and local field trips to UConn Dairy Bar/Creamery, UConn Bakery, and UConn Spring Valley Student Farm.
Previous kitchen experience is not required and you do not need to enroll or have taken the 101 camp in order to register for 102. Each camp takes place at Gelfenbien Commons dining hall on the UConn Storrs campus (easy access off Rt 195).
2023 Camps
Thank you to all our junior chefs that attended UCann Cook 2023 and to all the Dining Services staff for sharing their skills while creating a fun, memorable, and tasty camp! Click here to check out a highlights reel!