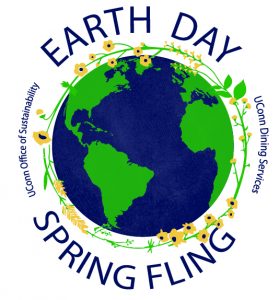 The annual Earth Day Spring Fling, co-hosted by the Office of Sustainability and the Department Dining Services, returns after a two year hiatus due to the pandemic, to Fairfield Way on Wednesday, April 20th, from 11am-2pm.
The sustainability festival will include vendors, fun activities, and events including a goat yoga session and a zero waste BBQ lunch from Dining Services.
See below for event details:
Zero Waste BBQ – Dining Services will be catering an outdoor zero-waste barbecue featuring vegan, vegetarian, and sustainable food options sourced locally. Lunch will cost one flex pass or $12 credit/debit. The meal will include a small ice cream from the UConn Dairy Bar truck. The UConn Bakery will also be there handing out spring theme cupcakes to celebrate Arbor Day. Students can donate their flex passes at the event if they have extras. Click here for the menu.
Environmental Art Show: Show off your eco-related art! Submit your art entry.
12-1p Goat Yoga: Yoga alongside the little goats of Bradley Mountain Farm. 75 person cap – you must register beforehand. Bring your own towel or yoga mat to Founders Green.
Party Peddler Bike: Hop on the 10 person bike for a tour of sustainability along Fairfield Way.
125th Class Tree Planting: As a certified Tree Campus, we're happy to plant the Class of 2022's student-selected Three-Flowered Maple on the north side of Wilbur Cross from 1-2pm.
Eco-Vendors: Meet with student and community organizations dedicated to sustainability, as well as eco-minded businesses along Fairfield Way.
For more information, please email sustainability@uconn.edu.