Full-Time Open Positions (Non-State)
Application: DDS Employment Application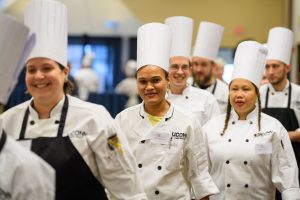 ---
General Information for Full-Time Applicants (NON-STATE Positions)
Congratulations!!! The University of Connecticut Department of Dining Services is a Great Place to Work and you have made a great choice in seeking employment with our award-winning and growing department. This page is designed to give you an overview of what to expect when considering completing an application for employment. To guide you in doing this, please take the time to read the following information.
PLEASE complete the application in full and sign where indicated.

Applications not filled out properly will not be considered.

The position you are applying for is a NON-STATE position.
As a condition of an offer for employment, you will be required to submit to a background, criminal record check, take and pass a drug screen, a physical and back evaluation.
There will be short periods of lay-offs between semesters and some summer lay-offs.
You will be eligible to apply for unemployment benefits during lay-offs.
Schedules will be mainly second shift, which varies from 11:30AM – 8 pm , 3:30 pm to 12 midnight, or 5:30PM to 2AM. (Late night shifts are eligible for a shift differential.)
Schedules will generally include weekends. The good news is the longer you work, the greater the potential for you to get an earlier shift.
All positions entail serving food, some heavy lifting, general utility duties and food preparation.
Please "click" on our job descriptions link for Kitchen Assistants, Chef assistants and Chefs.
Good attendance is a MUST.
Benefits Include:
Pay rates range from $14.92 an hour for Kitchen Assistants to $20.53 an hour for Chefs.
Medical, Dental, Vision, Life Insurance for the employee at no cost.
Sick and Vacation Days
Paid holidays
Pension plan
Uniforms provided.
Safety Incentive Awards
Career Ladder potential
On the Willimantic bus line!!!
---
Student Jobs
Bakery:
The Dining Services Bakery is located in the Commissary on Gurleyville Road. Students are staffed during the hours of 6:00am – 2:30pm, Monday – Saturday. Please call the Bakery at 486-2087 for more information.
Board Plan:
The Department of Dining Services currently staffs student employees at all 8 resident dining halls (Buckley, Gelfenbien, McMahon, North, Northwest, Putnam, South, and Whitney). Refer to the phone list below for employment opportunities.
Convenience Stores:
The Student Union Exchange. The C-Stores staffs students for evening and weekend shifts. The Student Union Exchange has day and evening student shifts available. The Union Exchange is the central contact location for all C-Store employment.
The Bistro on Union Street:
The Bistro on Union Street staffs student employees for various positions including: waitstaff and hosts. Applications for EXPERIENCED students are available at The Bistro on Union Street in the Student Union.
Union Street Market:
The Union Street Market (USM) is located in the Student Union. USM employs for many positions, stop by for more information.
Catering:
 The Catering Department is located in Shippee. For more information about staff openings please call 486-5053.
UC Cafes:
There are numerous retail food operations on the UConn campus:

Bookworms
Chem Cafe
Jitters
Union Street Cafe
Up & Atom
Wilbur's
Application: Student Employee Application
---
| | |
| --- | --- |
| Bakery | 486-2087 |
| Catering | 486-5053 |
| Retail Operations | 486-4206 |
| Commissary | 486-2040 |
| C-Store | 486-8415 |
| Main Office | 486-3128 |
| Buckley Dining Hall | 486-4200 |
| McMahon Dining Hall | 486-2601 |
| North Dining Hall | 486-3011 |
| Northwest Dining Hall | 486-2067 |
| Putnam Dining Hall | 486-4201 |
| South Dining Hall | 486-6654 |
| Gelfenbien Commons Dining Hall | 486-0703 |
| Whitney Dining Hall | 486-3004 |
Application: Student Employee Application
---
General Information Student Employment
The Department of Dining Services is one of the largest employers of students at the Storrs campus. We offer many different types of jobs throughout our department from working in the dining units, to working in our own bakery, coffee shops, or the main office. You may apply for employment with us by calling any of our management team at any of our locations or just by stopping by the location you are interested in. We've got something for everyone!
Starting pay rate of $10.10/hour ($10.25/hour if you have previous experience!).
free meal on the shift you work
Flexible shifts
Student management opportunities (great for resumes)
Fun working environment
The student manager is Tatiana Eder. She can be reached at: tje14002work@uconn.edu. If you have any questions about employment opportunities you may send an email to ddsstudentprogram@uconn.edu. The Department of Dining Services is an Equal Opportunity Employer. We encourage applications from under-represented groups, including minorities, women and people with disabilities.
---
Other questions about student employment: Office of Student Financial Aid Services – Student Employment. Department of Human Resources