About Us
Spring Valley Student Farm (SVSF) sprouted in spring 2010 from a project planted by Residential Life. Since that time SVSF has blossomed into a year-round community for eleven student farmers living in two UConn houses 4.5 miles off campus. The student farmers learn about sustainable community living, organic food growing methods and the business aspects of how food is harvested, processed and presented to the UConn dining community. As stewards and ambassadors of the farm the student farmers support Spring Valley Student Farm as an educational destination where everyone may come together to learn and grow.
Spring Valley Student Farm exists as a collaborative venture between Dining Services, Residential Life, EcoHouse Learning Community and First Year Programs, the College of Agriculture, Health and Natural Resources, Office of Environmental Policy, and the Office of Public Engagement-Service Learning.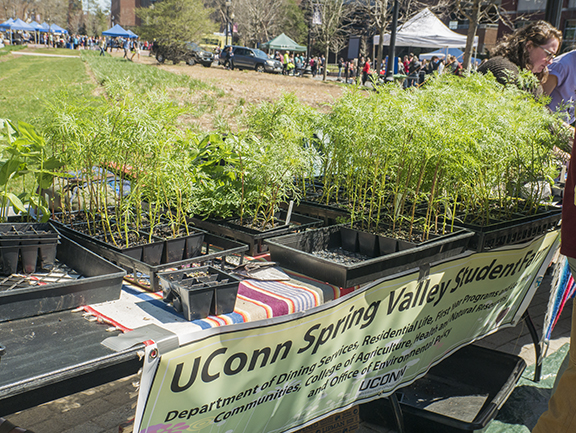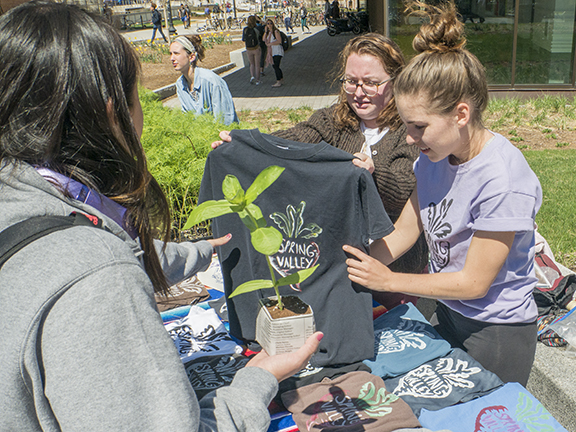 Spring Valley Student Farm Mission:
Spring Valley Student Farm (SVSF) provides an opportunity for UConn students and the greater community to join together to learn about environmentally, socially and economically ethical regenerative food production through hands-on experience. The Farm allows students to gain practical knowledge and skills through experiential learning while simultaneously modeling a closed loop food model in which organic produce is grown on campus for UConn Dining Services.- Spring Valley Student Farm aims to be a place where students, faculty, staff, and Storrs-Mansfield community members can come together to learn about the connections between land, food, and people.
– Serve as a vanguard for the local, organic food movement on the UConn campus by encouraging students, faculty, and staff to consider the environmental, social and economic impacts of the foods they consume daily.
– Model efficient, effective regenerative organic farming techniques that yield healthy productive soil, increased farm biodiversity and hundreds of varieties of high quality vegetables, fruits, herbs, and flowers.
– Encourage imaginative, innovative, and creative thinking to achieve more sustainable lifestyles.
– Host workshops, seminars, tours, and volunteer work days for the campus community, local residents, and local schools.
New: The Perennial Project
The Perennial Project aims to promote knowledge of sustainable and regenerative food production techniques while fostering interdisciplinary, hands-on cooperation to solve one of earth's emerging concerns. For more information: https://www.perennialproject.org/
Spring Valley Student Farm Provides Fresh Produce to Retail Restaurants
Spring Valley Student Farm provides fresh seasonal produce to Dining Services' Chuck & Augie's Restaurant located in the Student Union. Working directly with the manager and chefs at Chuck & Augie's, menus are planned around availability of seasonal vegetables from the farm. Meetings are held to discuss future seed plantings as well. Spring Valley Student Farm will also provide fresh produce to One Plate, Two Plates: Fast Food Served Healthy & Fresh, Dining's newest retail operation in the Student Union.
Farm Fresh Market is Open Through Thursday, September 28th, 2017
The Market will be open every Thursday on Fairfield Way in front of the library from 11:30am – 1:00pm through September 28th. Mark your calendars and plan on stopping buy to purchase the freshest produce and other products from our student-run Spring Valley Farm and other local farmers and businesses. Cash and credit accepted.
In case of rain we will be located in the Student Union by the food court.
Friday Volunteer Days Resume on Friday, September 1st, 2017
Please join us at the Farm from 4:00pm -6:00pm, every Friday, from September 1 through October 27, 2017.
We provide transportation to and from the Farm. The shuttle mini-vans leave and return from in front of Next Generation Hall on Alumni Drive. Shuttle pickup is at 3:45 and returns on campus at 6:15. If you prefer, you are welcome to drive to the Farm. We are located at 104 Spring Manor Road, Storrs-Mansfield, 06278 or GPS 1327 Stafford Road, Mansfield.
Have fun meeting students from all across campus while engaging in a variety of fall farming activities including harvesting vegetables, planting seeds to grow fresh healthy food for our UConn community and preparing the soil for the winter months.
We have many research projects and a variety of learning opportunities that you can join in such as aquaponics, solar thermal, apiary and edible forest gardening. This is a great way to earn community service hours. Remember to dress for outdoor conditions including warm water-repellant footwear.
For more information please contact Farm Manager, Julia Cartabiano at Julia.cartabiano@uconn.edu or phone/text 860-508-7706.
Tuesday Tours Begin on Tuesday, May 16th from 3:00pm – 8:00pm
This is open Farm hours where we welcome the community to visit for tours or hands-on activities. For more information please contact Julia Cartabiano at Julia.cartabiano@uconn.edu  or Jessica.larkin.wells@uconn.edu or phone 860-508-7706.
SVSF is located 4.5 miles off-campus at 104 and 86 Spring Manor Road in Mansfield but is part of on-campus housing. They may apply to live at SVSF before acceptance into on-campus housing but living at SVSF is dependent on their acceptance into on-campus housing.
There is no University transportation provided between the farm and the main Storrs campus. Many SVSF residents carpool.
SVSF is open to all undergraduate students. Students who live at SVSF are considered part of EcoHouse. They act as mentors for the EcoHouse community through on-farm volunteer opportunities and on-campus presentations and meetings.
EcoGarden Paid Summer Student Gardener Application

2017
Applications are Now Closed!
This position is open only to students of the University of Connecticut who are currently enrolled full time for the fall 2017 semester. Applicants must be physically capable of performing the strenuous physical labor necessary to do garden chores under a variety of climatic conditions. The student gardener needs to have a curious mind, an interest in organic gardening methods, good communication skills, a sense of humor in the face of adversity, be able to work independently without direct supervision, good problem solving abilities, and have a proven positive work ethic. Click heading for more information. Send completed applications to: Jessica.larkin-wells@uconn.edu
Paid Summer Student Farmer Application

2017
Applications are Now Closed!
This position is open only to students of the University of Connecticut who are currently enrolled full time for the fall 2017 semester. Previous volunteer time at Spring Valley Student Farm is highly considered during the selection process. Applicants must be physically capable of performing the strenuous physical labor necessary to do farm chores under a variety of climatic conditions. The student farmer needs to have a curious mind, the desire to do whatever it takes to get the produce to market, a sense of humor in the face of adversity, and a proven positive work ethic. Send completed applications to: mailto:Jessica.larkin-wells@uconn.edu
Summer Resident Cooperative Housing Application 2017

(non-paid)

CLOSED!! Applications to live at the farm have now closed. Thank you.  

Summer residence at SVSF is open to any UConn student currently enrolled for summer 2016 classes or enrolled for the fall 2017 semester. SVSF is located 4.5 miles off campus at 104 and 86 Spring Manor Road in Mansfield, Connecticut off Route 32 just north of the intersection with Route 44. Students who live at SVSF are expected to volunteer 10 hours per week of labor to qualify for a significantly discounted room rental rate. Click heading for more information. Send completed applications to: Jessica.larkin-wells@uconn.edu

Summer Resident Cooperative Housing Application 2017 (non-paid)
Check us out on Facebook