The Department of Dining Services is one of the largest employers of students at the Storrs campus. We offer many different types of jobs throughout our department from working in the dining units to working in our own bakery, coffee shops, or the main office. We also employ students from the Hartford campus. We've got something for everyone!
WHY UCONN DINING?
Starting pay rate of $14/hr
Free meal on the shift you work
Flexible shifts
Student management opportunities (great for resumes)
Fun working environment
We accept work-study from Financial Aid
Location Descriptions
Catering:
Catering students will specifically staff events around campus on a week to week basis,  You will start off as a Student Caterer with the opportunity to pursue promotions to Banquet Server or Bartender. 
Retail:
Union Street Market (USM) - Located within the Student Union, the USM staffs multiple locations within the building. Workers can pick up a variety of shifts within the food court, One Plate, Two Plates or Earth, Wok, and Fire. USM is located in the center of campus, making it easily accessible for commuters and employees living in any residence hall.
Uniquely Caffeinated Cafes - UC Cafes has multiple locations across campus, where you will be trained on how to be a barista. UC Cafes are heavily student-run and are a great way to make friends on campus while making money doing it. 
Mango - Located within UConn's Rec Center, Mango is another heavily student-run operation where you will make smoothies, salads, and sandwiches for everyone, especially gym goers. This location is particularly close for people living in Alumni, West, or McMahon residential halls.
Union Central Exchange (C-Store) - Also located within the Student Union, C-Store employees are primarily cashiers within the C-Store and UConn's Food for The Pack food truck. C-Store is located in the center of campus.
CPK/Bakery - Those working for CPK and Bakery will make the sandwiches and baked goods that are sold at the various retail locations across campus, as well as the occasional special orders to Dining Services. Those working CPK/ Bakery will have very minimal customer interaction.
Dairy Bar - This popular ice cream spot on campus is run primarily by students serving the UConn community and the public. Jobs here can include making milkshakes, scooping ice cream, working as a cashier, or helping make ice cream in the creamery. The Dairy Bar and the Creamery are two separate jobs. Look at the Jobx description when applying.
Morts (Avery Point campus) - Morts is the dining facility for Avery Point students. The application for Morts is listed separately on JobX since it is a different campus.
Residential Dining Halls: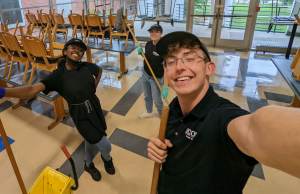 Buckley - Buckley Dining Hall is the smallest of the bunch, located on the ground floor of the Buckley Residence Hall and right next to Shippee. As these are primarily Honors dorms, Buckley is a great fit for incoming Honors freshmen as well as Fine Arts students as the Fine Arts Complex is located across the street.
Burton - Located within the Burton Family Football Complex, students will be serving the football team for their meals every day. It is located behind the South Parking Garage, putting it relatively close to those living in McMahon, West, and Werth Towers and Garrigus Suites.
McMahon - Located within the McMahon Residential hall, it is the perfect fit for those living in the building or right next door at West, Alumni, or South.
North- North Dining Hall is located right in the epicenter of North Campus residential halls, making it a good fit for anyone living within that area.
Northwest - Located right next door, Northwest is another good fit for anyone living on that side of campus. 
Putnam - Stationed right behind Werth Towers, Putnam is a great choice for those living there, in Garrgius Suites, or a bit farther back in Hilltop Apartments.
South - South Dining Hall is found behind the Snow residential hall and is easily accessible to students living in South, Alumni, and West.
Gelfenbein - More commonly known as "Towers' Dining Hall", Gelfenbein is usually primarily staffed by other freshmen living in the buildings surrounding it.
Whitney - The dining hall most easily accessed by those living in East campus, Whitney's newest remodeling makes for a beautiful work environment for anyone living in the area.
All of the listed positions are also easily accessible to commuter students. All of the listed locations are also managed by a team of students and will offer promotional opportunities semester to semester. 
Apply for a Job in Dining
APPLY via UConn JobX or fill out this student application and submit to Student Program Coordinator Erik Criollo at  erc18023work@uconn.edu.
Mort's Cafe at the Avery Point campus is also hiring but is listed separately on JobX from Storrs dining jobs.
Questions? Please send questions to Erik Criollo at erc18023work@uconn.edu
The Department of Dining Services is an Equal Opportunity Employer. We encourage applications from under-represented groups, including minorities, women, and people with disabilities.
Other questions about student employment: Office of Student Financial Aid Services – Student Employment. Department of Human Resources