With the rate of allergies and sensitivities on the increase, UConn Dining Services continues to make the necessary changes to meet the needs of our students with special diets and/or allergies. We are here to provide you with a safe, nutritious, and enjoyable college dining experience.
Nutritional Information
The Department of Dining Services analyzes and provides students and other customers with nutritional information about meals served in our dining halls and retail locations. Using this tool will help you to make an informed decision for each meal on a daily basis.
Below is a sample of what you will see on our Daily Menus & Nutrition Information page.
Clicking the "Nutrition Info" buttons will bring you to our interactive nutritive analysis where you can select menu items and receive information on protein, fat, calcium, iron, carbs, sugar, etc., for each of those items. This information and the nutrition tool is also available via the myUConn app.
Click on the images below to enlarge them.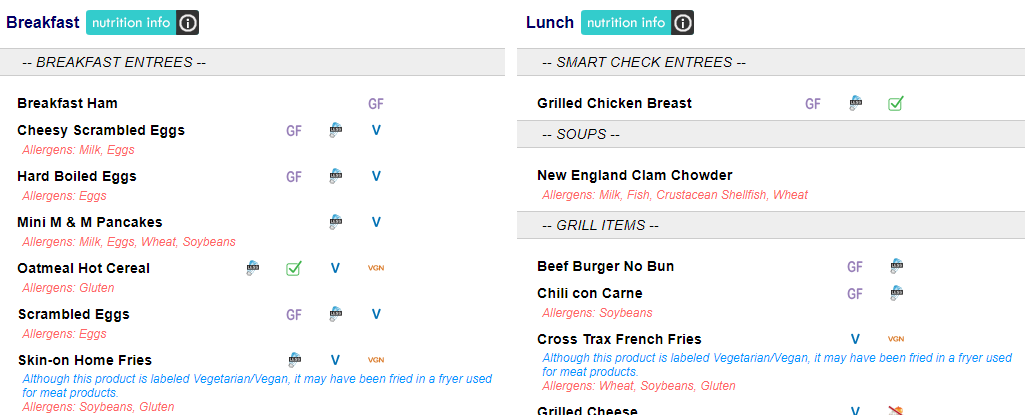 When you click on the "nutrition info" buttons it will take you to a page that will allow you to select menu items to create a nutrition report. Click on image below to enlarge

Food Labeling
Always remember to review our nutrition and allergen labeling. In our dining units, labeling foods clearly and in plain sight at all food stations and on each serving line is extremely important to us. Each dish is displayed in the case with a legible sign stating the name of the item, the calorie/protein/carbohydrate/fat content of the dish, and a list of any of following allergens: milk, eggs, fish, crustacean shellfish, tree nuts, peanuts, wheat, soybeans, gluten, sesame, coconut.
In addition, the labels specify "gluten" if an item has wheat, barley or rye or if there's a possibility of cross-contamination. The feedback we've received from students is that this is one of the most helpful and important tools they use daily to find safe choices throughout the dining facilities.
If you have questions about how something is labeled, please don't hesitate to ask to speak to the manager. Our chefs and managers are always happy to assist you with menu/allergen questions.
Allergens are also noted in our online menus.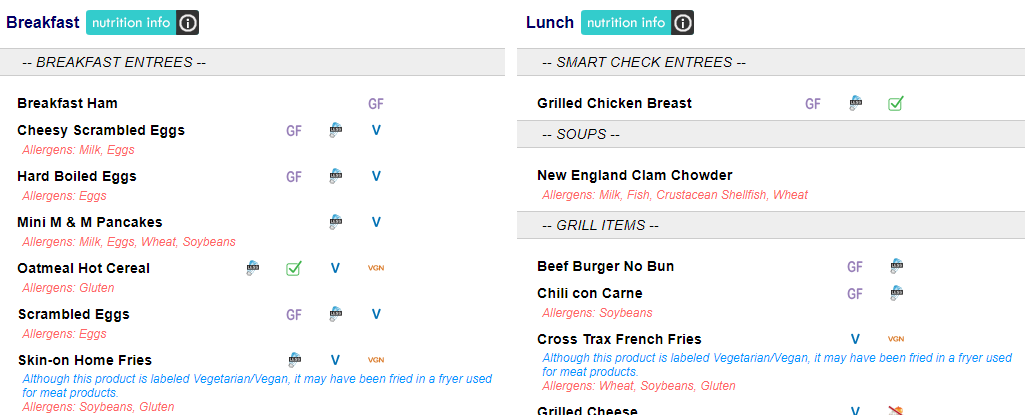 Students with a medically necessitated dietary requirement may
request a meal plan modification by following the steps below.
First Step: Apply for Meal Plan Modification with CSD
Students should contact Center for Students with Disabilities (CSD) to request a Meal Plan Modification within the first 3 weeks of the semester. A Meal Plan Modification request submitted after the 3rd week of the semester may result in a delay in coordinating the accommodation.
Please first contact UConn Center for Students with Disabilities to apply for accommodation.
Once your accommodation is approved, please then request an appointment with Dining Services and include in your medical need and the name of your CSD appointed contact.
Second Step: Request Appointment with Dining Services
To request an appointment fill out this form.
Once you fill out the form above a Dining Services staff member will then reach out to you to schedule an appointment. At your appointment, our Assistant Directors will speak with you to further discuss your allergy or dietary restriction, as well as any additional questions or concerns you may have relating to your needs.
The Department of Dining Services puts a priority on helping students who have food allergies navigate through our numerous dining halls, menu concepts, and retail locations. Any student who has a food allergy/dietary needs is asked to contact Dining Services so that we can work together at assuring you have options each time you enter one of our locations.
What to Expect at the Dining Services Meeting
Any information you can share with our dietary team at the meeting will assist us in accommodating your dietary requests and creating a positive dining experience. Below is a questionnaire that will assist you on the type of information that would be helpful to share with us at the meeting.
What are your allergens/dietary needs?
What do you eat for breakfast, lunch, and dinner?
What are your food, likes, and dislikes?
Are you a vegan or vegetarian?
How long have you lived with this specific diagnosis or diet?
What are the biggest challenges on your specific diet?
After a meeting with our dietary team, we will share suggestions on how we can accommodate your specific diet, give you a tour of our facilities, introduce you to our culinary team and make you as comfortable as possible with our dining operations. We look forward to meeting you.
How to Manage Your Allergies While Eating with Dining Services
Students are responsible for managing their food allergies while eating with Dining Services.
Students should be able to manage their food allergy(ies).
Recognize common sources of, and avoid, foods to which they are allergic.
Recognize symptoms of allergic reactions.
Know how and when to tell someone you might be having an allergy related problem.
Properly use medications (EpiPen, Benadryl, etc.).
Carry emergency contact information with you.
When in doubt about ingredients in a particular food, direct your questions to a manager, if you do not know who these individuals are, please ask a Dining Services staff member to assist you.
Read menus and ingredient information available online or within the dining halls.
Menus with ingredients are available online through the following link Daily Menus & Nutrition Information. When you click on the Nutrition Info button there are allergen filters available for menu items. For example, if you click on the filter for dairy – this will filter the menu for all items that do not contain dairy. There are filters available for milk, eggs, fish, crustacean shellfish, tree nuts, peanuts, wheat, soybeans, gluten, sesame, and coconut.
It is encouraged that you make more selections from stations managed by a Dining staff member as we cannot guarantee there is no cross-contamination in the self-serve stations. To determine the best options for your diet, please talk with a chef or manager.
In case of exposure, carry any needed medication (e.g., EpiPen, Benadryl, etc.) with you at all times. Please consider informing those you typically eat at the dining hall with about your medical needs in case of emergency.
We make every effort to provide you with the information you need to make decisions about which foods to eat in the dining halls. However, the possibility for a reaction exists in community dining.