As the demand for gluten free foods is steadily increasing, UConn Dining Services stands ready to meet that demand.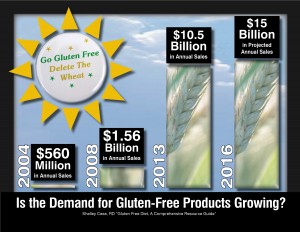 In 2001, UConn met with its first two students on our meal plan who were newly diagnosed with celiac disease. By 2013 – 2013, we were accommodating over 200 students and community members needing gluten free diets. Why such an increase? Increased recognition of the signs and symptoms of celiac disease/gluten sensitivity and quicker diagnosis by doctors.
For two years in a row, 2014 and 2015, UConn is ranked #1 for the gluten-free options offered through Dining Services.
The list of the Top 10 Gluten Free Accommodating Colleges for 2014 was announced July 11 at the 2014 meeting of the National Association of College and University Food Services.
"What set you … apart was that you went above and beyond the call of duty in providing gluten-free options for your students and truly helped them thrive," said a letter informing the University of the ranking.
"We have watched the results of this poll for the last several years and are grateful that our efforts have been recognized," says C. Dennis Pierce, executive director of Dining Services. "Students with specific dietary needs should have access to menu items that meet their expectations, so that they are prepared for their rigorous studies."
Dining Services' goals include providing flexible dining programs that provide value, support the needs of students, and enhance the education experience; maintaining student wellness through good nutrition; meeting the dining needs of a diverse population; and maintaining consideration for the environment.
What Do We Do When a Student Needs a Gluten Free Diet at UConn?
One-on-One Meetings: If you must follow a gluten free diet, Dining Services is available to meet with you one-on-one to plan your special dietary needs.
If you have concerns about your special dietary  needs, schedule a meeting with our Dining Services team. Typically, our team is made up the Assistant Director of Dining Operations, a dining unit area Manager and Production Chef from the dining unit that you will eat at most often, along with the Registered Dietitian on campus, and the Manager of Culinary Development. This meeting gives everyone a chance to meet and converse one-on-one with you about your specific needs and explain how we can best accommodate them.
Gluten Free Dining Options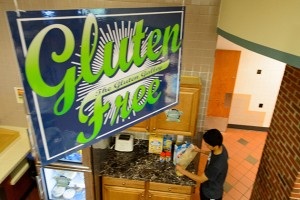 UConn Dining Services provides a range of dining options to meet students' dietary needs, including gluten-free and kosher offerings. Each of UConn's eight residential dining units at the Storrs campus has a special gluten-free area that stocks strictly gluten-free foods; the USM Food Court also has a complete gluten-free menu in each of it's five food stations, One Plate, Two Plates, also in the Student Union, has a significant gluten free menu as does the casual dining restaurant, Chuck & Augie's. Chuck & Augie's Restaurant is listed on GlutenFreeTravelSite, a website with strict criteria which assists people in finding safe and popular gluten free restaurants around the country.
Food Labeling
In our dining units, it is of utmost importance to label foods clearly and in plain sight at all food stations and on each serving line. Each dish is displayed in the case with a legible sign stating the name of the item, the calorie/protein/carbohydrate/fat content of the dish, and a list of any of the top eight allergens it contains (i.e., wheat, dairy, soy, egg, fish, shellfish, peanuts, tree nuts.) In addition, the labels specify "contains gluten" if an item has wheat, barley or rye or if there's a possibility of cross-contamination. The feedback we've received from students is that this is one of the most helpful and important tools they use daily to find safe choices throughout the dining facilities.
Allergen Information Provided
We at Dining Services feel that in order for any student to be successful academically, he or she must dine well before engaging in the rigors of the academic life. To that effect we continue to be vigilant about providing allergen information for our daily menu items. This information can be found on our website: http://dining.uconn.edu/nutrition/
New this year is our very own gluten free bakery. This bakery bakes delicious baked goods every day which are then sent to all of the dining units and cafes. You may also order gluten free items directly from the bakery. Check out the website for information.
With the rate of allergies and sensitivities on the increase, more and more colleges are going to have to make the necessary changes to meet the needs of special-diet students. UConn Dining Services is ready to meet that challenge to provide you with a safe, nutritious and enjoyable college dining experience.
If you have food allergies and would like to talk to someone and set up a meeting with Dining Services, please contact:
Registered Dietitian, 860-486-2719 Amy Dunham
As always, we invite your feedback. If you have comments or suggestions concerning our menu, please call the Dining Services main office at 860-486-3128.