Welcome to Uniquely Caffeinated Cafes
Our mission is to provide the entire campus community – students, faculty, staff, and visitors – with a diverse selection of high-quality, convenient dining choices throughout the day. Our "Uniquely Caffeinated Cafes" feature delicious coffees, teas, espresso and specialty drinks, a delicious variety of hand-crafted "With the Grain" sandwiches and wraps, NOSH (Kosher) sandwiches made fresh daily, and available to purchase at Wilbur's Cafe, and an excellent selection of delicious and healthy "Fresh Harvest" salads.
UC Locations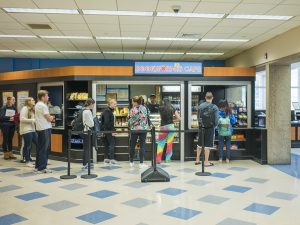 BOOKWORMS CAFE
Hitting the books at Homer Babbidge Library? Take a study break and visit Bookworm's Café located on the plaza level in the 24 hour study room. We offer a variety of hand-crafted "With The Grain" sandwiches and "Fresh Harvest" salads made daily in our central production facility. Need an energy boost? Now enjoy famous Peet's Coffee* or enjoy a fresh baked "Not Just Desserts" chocolate chip cookie from our on-campus bakery.(860)486-5233
*New to Dining Services, this semester, is our offering of Peets's Coffee at our Bookworms cafe which is located in the main floor of the UConn library. Peet's Coffee & Tea, Inc. is the premier specialty coffee and tea company in the United States. The company was founded in 1966 in Berkeley, California by Alfred Peet. Peet was an early tea authority, who later became widely recognized as the grandfather of specialty coffee in the U.S. Today, Peet's Coffee offers superior quality coffees in multiple forms, by sourcing the best quality coffee beans  in the world, adhering to strict high-quality and taste standards, and controlling product quality through its unique direct store delivery selling and merchandising system. Peet's is committed to strategically growing its business through many channels while maintaining the extraordinary quality of its coffees.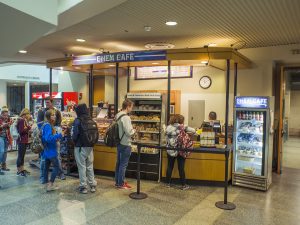 CHEM CAFE
Chem Café is located in the atrium of the Chemistry building. As you make your way across campus, stop in and enjoy a fresh brewed cup of coffee and a pastry from our on-campus bakery.(860)486-0813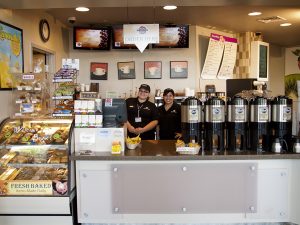 UNION STREET CAFE
Located in the Student Union as part of Union Street Market. Featuring a full line of coffee & teas, muffins, bagels, cookies, and more!(860)486-8832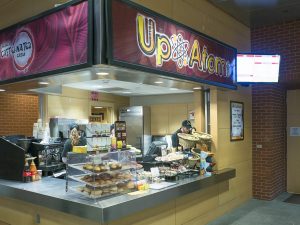 UP & ATOM CAFE
Located in the atrium of the Bio Physics building, the café offers a great place to study or relax with lots of natural sunlight! Enjoy a cold beverage and a snack in this truly Uniquely Caffeinated Café.(860)486-1590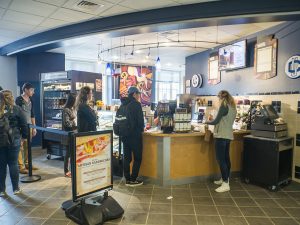 WILBUR'S
Located in the lobby of the Wilbur Cross building, Wilbur's offers a wide variety of coffees, teas, and bagels. This location features NOSH Kosher sandwiches along with our own line of Spa Foods. And, of course, you can still find your favorites from any of our other cafes.(860)486-5127
What's on the Menu?
All Menus and Nutrition Information
Soup Menu & Schedule

UC Cafes Quality Statements
Sandwiches
Your "With the Grain" sandwich was made fresh today. Our dedicated staff produces nearly 1,200 sandwiches daily. We feature fresh UConn bread: focaccia, marble rye, white and wheat grinder rolls, all baked in our very own UConn bakery.
Salads
Your salad was made fresh today. Using fresh cut greens and the finest ingredients, 250 salads were created this morning!
Rainforest Alliance Certified Coffee
We proudly serve Rainforest Alliance Certified coffee, including UC Bold, and a selection of other fine coffees roasted right here in Connecticut.
Community & Beyond
The generosity of our customers and staff has allowed us to support by way of donation. $2,500.00 was donated to The Red Cross Hurricane Relief Fund. Previous charities sponsored by our customers and staff include Marine Corp Toys for Tots, Camp Rising Sun, Epilepsy Foundation of Connecticut, Muscular Dystrophy Association, and Children's Miracle Network.
UC Hours of Operation
BOOKWORMS CAFE
Monday – Thursday: 7:30am – 12:00am
Friday: 7:30am – 5:00pm
Saturday: 11:30am – 5:00pm
Sunday: 11:30am – 12:00am
CHEM CAFE
Monday – Thursday: 7:30am – 4:00pm
Friday: 7:30am – 3:00pm
UNION STREET CAFE
Monday – Friday 7:00am – 4:00pm
Saturday 9:00am – 4:00pm
Sunday 10:00am – 4:00pm
UP & ATOM CAFE
Monday – Thursday: 7:30am – 4:00pm
Friday: 7:30am – 3:00pm
WILBUR'S
Monday – Thursday: 7:30am – 4:00pm
Friday: 7:30am – 3:00pm
Payment Accepted
Cash
Credit Cards (MasterCard, Visa, Discover & American Express)
Husky Bucks
Points

Follow UConn Dining Services on Facebook!