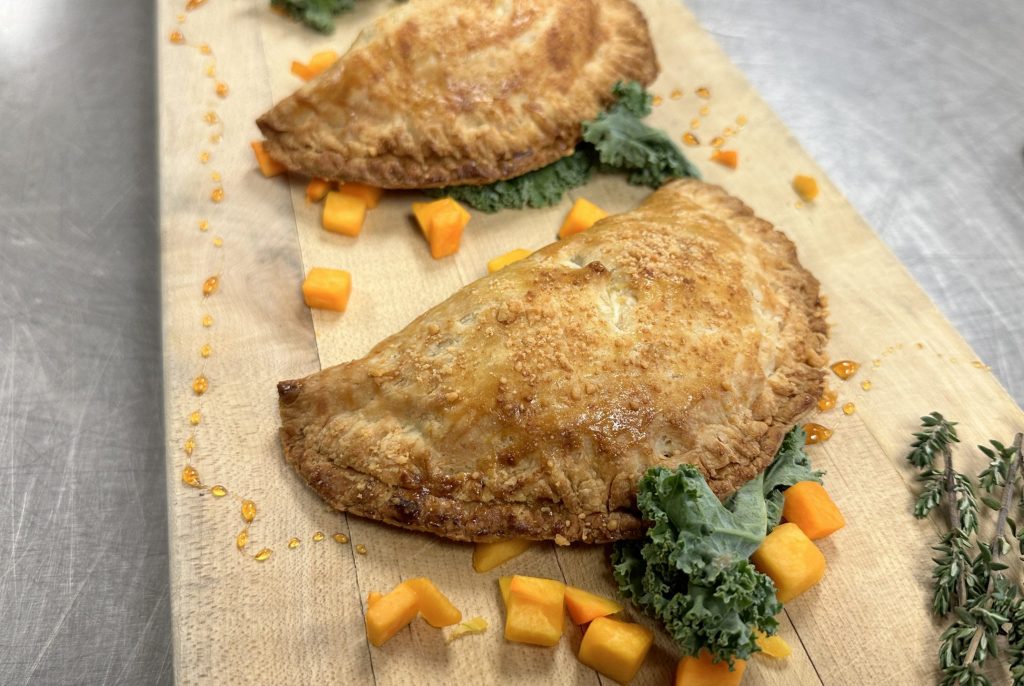 The National Association of College & University Food Services (NACUFS) announced UConn Dining Services as the recipient of a distinguished NACUFS Nutrition Award. Dining Services received gold in the category of Best Local Foods Recipe. The NACUFS Nutrition Awards recognize the outstanding nutrition and wellness programs implemented within collegiate foodservice programs to meet the needs of a dynamic student population.
The winning recipe, Chicken Sausage, Butternut Squash and Kale Hand Pies with Lemon Ricotta, is served at Whitney Dining Hall. Whitney is one of eight dining halls on the Storrs campus and features local, vegetarian, and vegan items. The farm-to-table initiative offers sustainable and local food items from a variety of local farmers and food producers including UConn's Spring Valley Student Farm. UConn Dining is the largest consumer of locally grown produce in Connecticut.
"We are proud to have an administration at UConn that supports our involvement in NACUFS, and a team within Dining Services that believes in supporting local farming which strengthens our local community and economy" says Robert Landolphi, Assistant Director of Culinary Development for UConn Dining Services. "Most importantly we have a student body that dines with us daily and are willing to share with us what is important to them as they assist us in expanding our local and regional purchases."
NACUFS member institutions across North America submitted entries in two categories — Most Innovative Wellness & Nutrition Program and Best Local Foods Recipe.
UConn Dining has received 21 awards from NACUFS in the last 15 years for recipes, dining hall renovations, gluten free options, culinary challenges, catering, and sustainability initiatives.
Want to try the hand pie recipe at home? Find a printable recipe and demo at dining.uconn.edu/recipes.
---
The National Association of College & University Food Services was founded in 1958 by a group of college and university foodservice professionals from across the United States. Since its inception, NACUFS has focused on its mission to support and promote excellence in collegiate dining by providing members with the programs and resources they need to excel, from benchmarking and best practices to educational programming and professional networking.
NACUFS institutional members range from private colleges to large public universities, including two-year and four-year institutions, spanning the United States, Canada, United Kingdom and beyond. Industry members include food and equipment manufacturers, distributors, brokers, foodservice support companies, councils, boards, trade associations, advisory commissions and other professional groups. For more information, visit NACUFS.org.
###
---