Sustainable…It isn't just a buzzword at the Department of Dining Services
All of the greening efforts by Dining Services contribute to the rankings that place UConn, year after year, in the top ten lists for most sustainable universities.
UConn Dining Services is the largest consumer of locally grown produce in Connecticut. We love serving local foods! We are committed to providing our customers with sustainable dining options and to supporting a local food system. Dining Services' Local Routes program works to help educate the UConn community about the importance of choosing foods that will benefit the local economy, the environment, and New England farmers.
Although all our dining halls serve local foods, Whitney Dining Hall focuses on a farm-to-table menu. Whitney was renovated during the summer of 2019 and we encourage everyone to visit Whitney during their time at UConn and experience this cozy and modern space featuring local, vegetarian, and vegan items, including items from our own Spring Valley Student Farm.
Check out the article in The Daily Campus on our support of local farms.
The Local Routes Mission Statement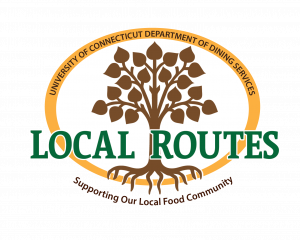 The goal of the Department of Dining Services' Local Routes program is to develop interest in locally produced foods among the university community. By holding Local Routes Fairs and encouraging the use of local foods through on-campus food service operations, the Department of Dining Services will focus on supporting and promoting the use of local and sustainable foods. Through education and interaction, the Local Routes Program will encourage the support of local food producers and businesses that sell locally grown foods.
10 Reasons to Buy Local Food
Locally Grown or Produced Food Tastes Better In a week-long (or more) delay from harvest to the dinner table, sugars turn to starches, plant cells shrink, and produce loses its vitality.
Local Produce is Better For You A recent study showed that fresh produce loses nutrients quickly.
Local Food Preserves Genetic Diversity Local farms grow a huge number of varieties to provide a long season of harvest, an array of eye-catching colors, and the best flavors.
Local Food is GMO-Free Small and local farms are less likely to use genetically engineered seeds.
Local Food Supports Local Farm Families Local farmers who sell direct to customers get full price for their food.
Local Food Builds Community When you buy direct from the farmer, you are re-establishing a time-honored connection between the eater and the grower.
Local Food Preserves Open Space When you buy locally grown food, you are doing something proactive about preserving the agricultural landscape.
Local Food Keeps Your Taxes in Check Farms contribute more in taxes than they require is services.
Local Food Supports a Clean Environment and Benefits Wildlife A well-managed family farm is a place where the resources of fertile soil and clean water are valued and the perfect environment for many species of wildlife.
Local Food is About the Future By supporting local farmers today, you can help ensure that there will be farms in your community tomorrow.
Connecticut and New England Food Producers
We are proud to partner with the following Connecticut and New England food producers:
Local Farmers and Producers:
The Bridge Tofu, Middletown, CT (Tofu)
Calabro Cheese Co., East Haven, CT (Mozzarella, Ricotta, Parmesan & Romano Cheeses)
Four Mile River Farm, Old Lyme CT (Pastured Beef)
Mountain Dairy, Storrs, CT (Milk & Cream)
Buell's Orchard, Eastford, CT (Apples & Apple Cider)
Norman's Sugarhouse, Woodstock, CT (Maple Syrup & Honey)
Wright's Orchard, Tolland, CT (Apples)
Longhini Sausage, New Haven, CT (Sausage)
Asian Menu Sauces, Stamford, CT
Omar Coffee, Newington, CT
University of Connecticut Food Producers:
UConn Poultry Farm (Cage-Free Eggs)
UConn EcoGarden Club (Garden Produce & Herbs)
UConn Spring Valley Student Farm (Garden Produce & Herbs)
UConn Dairy Bar (Ice Cream)
UConn Dining Services Apiary (UConn Gold Honey)
Certified Organic Products
UConn Dining proudly serves organic products when available.
Baby Spinach
Fair Trade Coffee
Rainforest Alliance Coffee
Husky House Coffee from Omar
Applegate Organic Turkey & Ham
Spring Mix
Misc vegetables from UConn Spring Valley Student Farm
Sustainable Farm Cooperatives
We are proud to list the following farms that supply our dining units with products that are humanely raised without antibiotics or growth hormones. These farms are committed to sustainable agricultural practices.
Tyson - No Antibiotics Ever! (NAE)
Coleman Chicken Tenders (NAE)
Pineland Farms (All Natural Beef)
Michigan Turkey (All Natural Turkey)
Applegate (All Natural Turkey & Pork Products)
One Plate, Two Plates
Local Suppliers/Farmers/Producers:
Massachusetts
Pioneer Valley Farms, Springfield
Swazlowski Farms, Hatfield
Maine
Connecticut
The Farm, Woodbury
Deercrest Farms, Glastonbury
UConn Spring Valley Student Farm, Storrs: Asparagus, Beets, Bell Peppers, Butternut Squash, Carrots, Cucumbers, Currants, Edible Flowers, Eggplant, Garlic, Garlic Scapes, Green Beans, Greens, Herbs, Kale, Lettuce, Nasturtium, Onion, Papallo, Peas, Radishes, Serrano Peppers, Sorrel, Squash, Swiss Chard, Tat-Soi, Tomatillos, Tomatoes, Zucchini)
UConn Bakery, Storrs:  Assorted Bread, Cookies, Pastries & Desserts
UConn Gluten-Free Bakery, Storrs: Gluten-Free Baked Goods
Real Slow Food
What is slow food?
Slow Food is an idea, a way of living, and a way of eating. It is a global, grassroots movement with thousands of members around the world that links the pleasure of food with a commitment to the community and the environment. Information is from the Slow Food website: http://www.slowfoodusa.org/
What is real food?
"Real Food" is a holistic term we're using to bring together a lot of different ideas people have about just and sustainable food. We're talking about food that is ethically produced, with fair treatment of workers, equitable relationships with farmers (locally and abroad), and humanely treated animals. It's food that is environmentally sustainable, grown without chemical pesticides, large-scale mono-cropping, or huge carbon footprints. Real Food is food that is healthy, tastes good, builds community, and has the potential to inspire broad-scale social change. You can call it 'green' or fresh, 'local' or 'organic.' But we're talking about more than supermarket labels. That's why we think about Real Food in the context of our entire food system, from farm to plate as food that truly nourishes people, communities, and the earth. In practice, we have broken down real food into 4 categories: local, fair, ecologically sound, and humane."Information from the Real Food website: http://realfoodchallenge.org/
At UConn we aim to improve the culture of food on campus by:
Purchasing more local/organic foods
Enjoying whole and healthy foods
Learning the origins of our food
Supporting local farmers
Real Slow Food at UConn works in conjunction with the Department of Dining Services/Whitney Local Routes and UConn EcoGarden. Students choose a sustainable approach to gardening.