Angel Soto: Q&A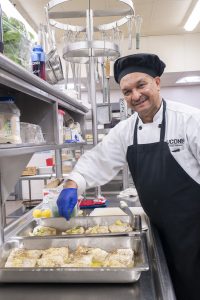 With almost four decades of creating menus and serving students, you could say chef Angel Soto is a familiar and welcome face in the dining halls at UConn. After graduating from the culinary arts program at EC Goodwin Tech, Angel got his hands-on experience serving large groups through food services in the Army. In 1996 he retired from the Army with 20 years of service, four years in active duty and the remainder in the reserves. After leaving active duty he joined UConn Dining Services and also returned to EC Goodwin Tech for a few years as a chef instructor for the adult bilingual education program.
Today you can find Angel in Buckley Dining Hall whipping up omelets for students to start their day. He also currently serves as the UNITE Here Steward and Executive Board Member.
What do you love about working at UConn?
What I enjoy about working at UConn is the interaction and service we provide to our students. The greatest satisfaction for me is receiving the many thanks and compliments from students on a daily basis and for that I'm grateful!
Working at UConn has allowed me to meet many people with skills that have influenced me in many ways. With skills gained along the way, I've been able to continue my passion for creating menus and keeping my love for the culinary arts alive.
I have achieved many accomplishments throughout my 39 years in food service here at UConn, but the two achievements that stand out the most for me was receiving the SUBOG Employee of the Month in 1985, voted on by the students and Employee of the Year in 2011, voted by my peers.
What is your favorite thing to cook at UConn?
I enjoy cooking all types of food, but my favorite would have to be whipping up omelets at the omelet station. We provide students with many options to create their omelets and working at this station allows me to interact with the students and for me, that is so rewarding!
What is your favorite thing to cook at home?
I cook many meals at the home front, but believe it or not I'm not the head chef at home, my wife is!  She's a great cook and I appreciate her taking that duty on. But when I do cook at home my family would say that their favorite is my Puerto Rican cuisine dishes. I grew up in a very large family with six brothers and four sisters. You would often find my mother in the kitchen creating Puerto Rican dishes for my siblings and me. I would say she and many of my aunts influenced me to become a chef!
---