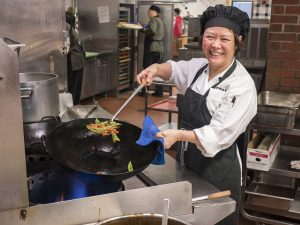 Susan Chang's love for cooking began as a child growing up in Taiwan. With no formal education, she learned everything with on-the-job training. Her grandfather was also a chef and she recalls that he always had a stern look on his face since he took his work so seriously.
Being in family-owned restaurants has been the backbone of her culinary career. In 1985 she moved with her family to the United States where she was part owner and operator of the restaurant they opened in Nebraska. She then moved to New York to work in another family-owned restaurant, eventually landing in Storrs.
In 1998, Susan and her family purchased a restaurant in downtown Storrs and opened Chang's Garden, serving authentic Chinese food to the UConn community for many years. Although Susan and her sister have since sold the restaurant, it is still called Chang's Garden and in operation today.
After leaving the restaurant business, Susan started as a kitchen assistant at UConn Dining in 2010, eventually working her way up to a chef three years later. She currently works as a chef at South Dining Hall where a variety of international foods are served. For Susan, food and family have always gone together and she often brings specialty/authentic foods from home to share with staff and managers. She takes a great deal of pride in her work and food, loves her job and says the students at UConn help to keep her young!
Get to Know Chef Chang:
Favorite Quotes: "Cooking is a craft, I like to think, and a good cook is a craftsman — not an artist. There's nothing wrong with that: The great cathedrals of Europe were built by craftsmen — though not designed by them. Practicing your craft in expert fashion is noble, honorable, and satisfying." – Chef Anthony Bourdain
"The way you make an omelet reveals your character. – Chef Anthony Bourdain
Cooking Philosophy: I love to cook and watch students (and others) enjoy the food I make.
Cooking Secret: Using pizza dough to make scallion pancakes.
---