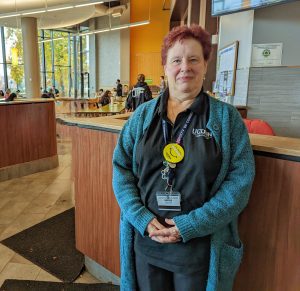 Current Position at UConn Dining Services: Validine Operator at McMahon for the last 5 years – validine operators greet all the students and guests at the dining hall and assist them with questions, tapping their OneCards, and meal purchase transactions.
What was your journey before coming to UConn? I graduated from nearby E.O. Smith High School, taught English in Brazil for 3 years, worked at CT Bank and Trust and also as a nurse aide.
What has been your journey at UConn Dining? I started at UConn in 1994 as a validine operator at Russell A&B. Other positions included receptionist at the Dining main office, receptionist at Jonathan's Restaurant, chef assistant, location lead, and kitchen assistant. Although I retired from full-time employment, I am still at McMahon on a part time basis.
What do you love about your job? I love interacting with the students and visitors. I treat the kids like they are mine. I love listening to their stores and adventures. I am a huge sports fan and over the years I have bonded and kept in touch with a lot of the student athletes and other students on social media.
What is your favorite menu item at UConn? I love the food at McMahon! My favorite item is salmon and steamed veggies.
What are some fond memories you have of your time at UConn? We used to have a barbecue every week at Jonathan's Restaurant. I liked helping serve and prepare food. My special memories are working with different types of people. South was my favorite dining hall. I trained a lot of kitchen assistants.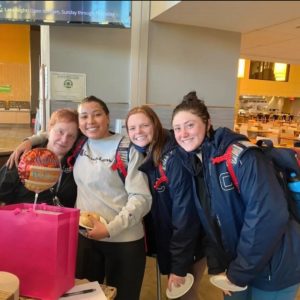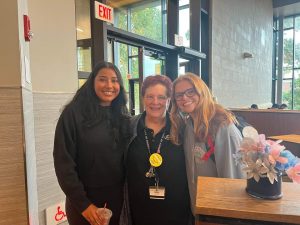 ---