DIVISION OF STUDENT AFFAIRS APPOINTS EXECUTIVE DIRECTOR OF DINING SERVICES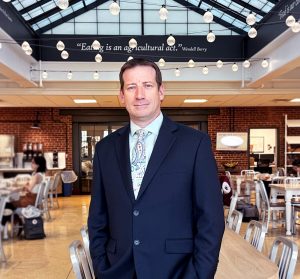 After conducting a comprehensive national search, the Division of Student Affairs has named Michael White as Executive Director of Dining Services effective November 4, 2022.
White holds a Bachelor of Arts in Economics from UConn and a Master of Arts in Industrial Organizational Psychology from the University of New Haven.  In his 26th year as a UConn employee, he brings an impressive base of UConn experience to this position, including serving as Interim Senior Associate Director of Dining Services for the past 1.5 years. Prior to that he served as the Associate Director of Dining Services, an Area Manager, General Manager of Retail Operations and Student Program Coordinator. He started out in 1994 as a student worker washing pots at Shippee Dining Hall and progressed through the ranks which allowed him to gain a thorough understanding of the role every level of Dining Services plays in delivering a quality experience to all customers.
In addition to leading various aspects of Dining Services, White also held the UCPEA roles of President from 2015 – 2021 and First Vice President of Collective Bargaining from 2009 – 2015. In these positions he was a SEBAC representative, member of the Health Cost Containment Committee, and the Vendor Advisory Committee. He also sits on myriad UConn committees including Strategic Visioning, Covid-19 Medical Services Workgroup, Vice Provost's Committee on Food Insecurity, University Senate, and the Access & Accommodations Committee.
Mike lives in Norwich, CT with his wife Jill (also a UConn alum '97). He has twin daughters Teagan and Cassidy who attend UConn-Avery Point. Teagan is majoring in Psychology and Cassidy is majoring in Speech and Language Pathology.
The Division of Student Affairs appreciates the work of the search committee chaired by Tracey Roy (Interim Executive Director of Dining Services), administered by Samantha Courtois (Dining Services) and composed of David Clokey (Assistant Vice President, Office of the Vice President for Student Affairs), Cheryl Radzvilowicz (Environmental Health & Safety), Padma Srimatkandada (Student Affairs Information Technology), and Isaac Barber (Director, Student Union).
Much thanks is given to Dining Services staff members who stepped up to fill interim roles while the search was being conducted including Tracey Roy as Interim Executive Director, Rob Landolphi as Associate Director of Residential Dining, and White as Interim Senior Associate Director. Also appreciated is the outstanding work of all the Dining Services staff who stepped up during this time of transition under Tracey's interim leadership and continued to produce high-quality services that Dining is known for. 
---