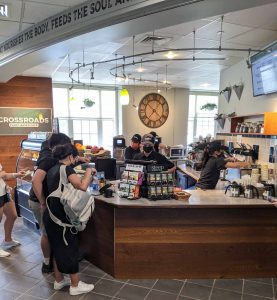 UConn Dining Services' highly anticipated plant-based café, CrossRoads, opened for business on Monday, August 30th, feeding students, faculty, and staff.
Located in the heart of campus on the main floor of the Wilbur Cross building, adjacent to the Information Center, CrossRoads offers a unique menu of plant-forward options that will satisfy meat-eaters, vegetarians, and vegans alike. Many items on the menu are also gluten-free. The casual café serves up ready-to-go salads and sandwiches that are made fresh every day on campus, desserts from the UConn Bakery, as well as build-your-own yogurt bowls.
The idea for CrossRoads started in October of 2020 when UConn undergraduate Madelyn Pickett '23 (ENG) emailed Dining Services with her proposal for the plant-based café. To gauge the interest of the campus community, Dining Services sent out a survey and received thousands of responses in support of the café idea. Although vegan and vegetarian fare is available in all the campus dining facilities, Dining Services saw an opportunity with this cafe to bring additional exposure and availability of the great tasting plant-based products that are on the market to the flexitarians on campus, along with creating an education component on the health and sustainability aspects of a plant-forward diet. With full approval from the University, students then took part in a menu tasting in March of 2021 in the Dining Services Innovation Lab with Robert Landolphi, associate director for culinary development and residential dining.
When it came time to creating the branded look for CrossRoads, Dining Services continued with the idea of keeping elements of the Café centered around student involvement. Pickett turned to her friend and graphic designer Jared Beltz '23 (BUS). Beltz, a junior, is a digital media and design major at UConn and developed the logo, branding guide, and color palette for the Café.
The Café space was remodeled this summer with wood elements, plants from the UConn Horticulture Club, and campus photography to create a natural and welcoming feel. High top tables along with a lounge space are available for dining and studying.
In addition to making plant-based options more obtainable within the UConn community, the CrossRoads team strives to educate and spread awareness on the importance of sustainability. Through student leadership, the Crossroads Events Management Committee will coordinate and host events on a range of topics relating to the plant-forward movement. Such areas include sustainable farming, alternative proteins, nutritional topics, etc.
CrossRoads is open to the public; hours Monday through Friday from 7:30am-3pm | visitor parking on campus. Husky Bucks, Credit/Debit, Points and Flex Passes accepted.
CrossRoads Café – website https://dining.uconn.edu/uc-cafes/ 
CrossRoads on Instagram – @UConnCrossRoadsCafe
For press inquiries, please contact DDSmarketing@uconn.edu.
###
---