Ice Cream Flavors
Banana Chocolate Chip
Black Raspberry
Chocolate
Chocolate Brownie Fudge
Chocolate Chip Cookie Dough
Cherry Vanilla
Coconut
Coffee
Coffee Espresso Crunch
Husky Tracks
Mint Chocolate Chip
Oreo
Red Raspberry Sorbet (Dairy Free!)
Salted Caramel Crunch
Strawberry Cheesecake
Toasted Almond Amaretto
Vanilla
Seasonal Specials
Peach (Summer)
Strawberries & Cream (Summer)
Peppermint Stick (Winter)
Senior Scoop (Spring)
Cinnamon Caramel Swirl (Fall)
Pumpkin (Fall)
Maple Walnut (Fall)
We Always Have
An assortment of Half Gallons, Ice Cream Cookie Sandwiches, Ice Cream Pies, Cupcakes and Parfaits. Check the retail freezer for available varieties.
A selection of Sandwiches and Salads and Soups.
UConn Poultry Farm Fresh Eggs in a variety of sizes. Stop in to pick up a dozen or a flat!
A variety of Cheeses made in our creamery. Please call for currently available varieties.
Gift Certificates are available in denominations of $5 and $10 – great gift for alumni, UConn students, and Husky fans!
Made Before Your Eyes!

During your visit to the UConn Dairy Bar you may even have the chance to observe ice cream being made through the observation window in the Dairy Bar store. The ice cream production schedule cannot be guaranteed but is generally Monday – Friday from 11:00am-2:00pm.
---
---
Visit the UConn Animal Barns
Visitors can see the cows being milked every day from 12:30-3:00pm. See Animal Science webpage here.
History
The UConn Dairy Bar opened in 1953 to sell dairy products that were made by the Creamery. The Creamery was established in the early 1900s and bottled milk all the way up until 1991. Today, the Creamery makes ice cream according to its original recipe and sells this ice cream through the Dairy Bar retail establishment, along with a variety of cheeses.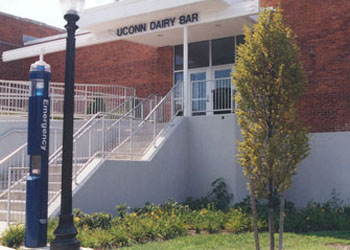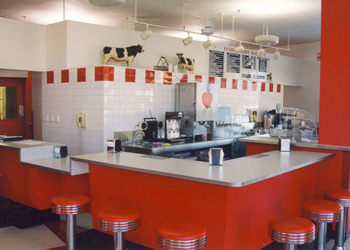 Hours of Operation
Fall Hours of Operation (Labor Day  – October 31st)
Sunday - Thursday: 11:00am - 8:00pm
Friday - Saturday: 11:00am - 10:00pm
Winter/Spring Hours of Operation (October 31st  – April 1st)
Monday – Sunday: 11:00am – 7:00pm
April/May Hours of Operation (April 1st - May 25th)
Monday – Sunday: 11:00am - 8:00pm
EXCEPTIONS:
Closed April 16, Easter Sunday
Open 11:00am - 10:00pm on Saturday April 29, Friday May 5, and Saturday May 6  
Summer Hours of Operation (Memorial Day weekend – Labor Day weekend)
Monday – Sunday: 11:00am – 10:00pm
With the following exceptions near the holidays:
Thanksgiving Eve, Nov. 23rd: open 11:00am – 3:00pm

Thanksgiving Day: Closed

Black Friday, Nov. 25th: 11:00am – 5:00pm

Saturday, Nov. 26th: 11:00am – 5:00pm

Christmas Eve, Dec. 24th: 11:00am – 3:00pm

Christmas Day, Dec. 25th: Closed & Dec. 26th Closed

Tuesday, Dec. 27th – Friday, Dec. 30th: 11:00am – 5:00pm

New Year's Eve, Dec. 31st: Closed

Sunday, Jan. 1st – Thursday, Jan. 5th: Closed

Friday, Jan. 6th: 11:00am – 5:00pm

Saturday, Jan. 7th – Friday, Jan. 13th: 11:00am – 5:00pm

Saturday, Jan. 14th resume hours of 11:00am – 7:00pm every day
For more info, questions, or requests
Call us at 860-486-1021 or CONTACT US
Payment Accepted
Cash
Credit Cards (MasterCard & Visa)
Husky Bucks
Social Media


Check us out on Facebook and Twitter!