"I love coming up with new concepts, every day brings a different challenge and a new solution."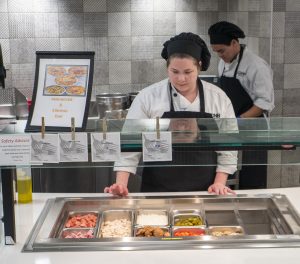 Production Chef Kelly Haggerty takes her inspiration and passion for cooking from the backgrounds and cultures of the many different people she meets in life. Because she is a chef, the topic of food usually comes up and the traditions and stories of food that others grew up with inspire her to be creative and to put her own unique spin on it.
Kelly's culinary background began at the Western Culinary Institute (Le Cordon Bleu) in Portland, Oregon where she obtained her associate's degree. She then worked for five years at Todd English's Tuscany at Mohegan Sun, a high volume fine dining restaurant, where she became the first woman master cook. She was also a pastry chef for Latitude 41 in Mystic, CT and helped the company with their sister restaurants Mystic Market West and Aspen in Old Saybrook, CT.
Arriving at UConn in 2010, Kelly started as a chef assistant at Union Street Market and within a year was promoted to chef and then production chef. In April 2019 she made the move to Whitney and Buckley dining halls as their production chef.
What's her favorite meal to cook? Outside of UConn Kelly keeps dinners at home very simple but if she is going to a gathering or feeling creative, her go-to is rustic Italian food which usually consists of a four-course meal.
Kelly's diverse skills as a chef have allowed her to participate in two American Culinary Federation competitions during her time at UConn. With each year there is a new food trend, so recipes are always evolving which she feels keeps on her toes.
---