From Game of Cones to making their own waffles cones, the Dairy Bar has had a sweet year! Congrats to the Dairy Bar, UConn Animal Science and the UConn Creamery for receiving the following awards and mentions:
Best Ice Cream – The Chronicle Best of 2019 Readers' Choice Award
Best Ice Cream Shop – Hartford Courant – CTNow Best of Hartford Readers' Poll 2019
American Society of Animal Science 2019 Big Scoop Competition: Lemon Ice Box Pie
American Cheese Society 2019: Our Chipotle Queso Blanco and our Green Chile Queso Blanco were recognized for excellence amongst 1742 products from over 250 entering companies. The Chipotle and Green Chile cheeses were awarded second and third place in their category, respectively.
Trip Advisor Certificate of Excellence Hall of Fame: Dairy Bar earned a spot in the Trip Advisor Hall of Fame for 5 years of excellence!
Making Headlines:
The Dairy Bar was also on the cover of the UConn Dining Services fall edition of UCuisine.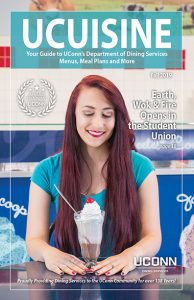 Check out the Dairy Bar scoop! Connect with us on social
Instagram @uconndairybar
facebook.com/UConnDairyBar
facebook.com/UConnDairyBarTruck
twitter.com/UConnDairyBar
twitter.com/UCDairyBarTruck
https://dining.uconn.edu/uconn-dairy-bar/
---