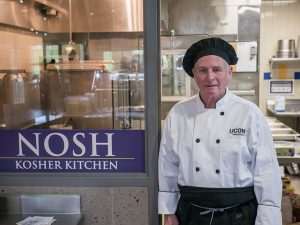 Hard work and dedication are the ingredients in chef Bruce Haney's career. In his almost 48 years as a full time chef at UConn Dining Services, he has also held eight other jobs as a chef and caterer in his spare time. If that wasn't enough, Haney also serves as the treasurer for his union, Unite Here Local 2527T, on the Pension Committee and as co-chairman on the Retirement Plan Committee.
Shortly after receiving his associate's degree in Culinary Arts, from the Culinary Institute of America, he joined the Army Enlisted Aide Program as part of the Quartermaster School. As an aide under the command of a Lieutenant General he was responsible for purchasing, menu planning, food preparation and serving for all meals, dinner parties and special functions. During his time in the Army he rose to the rank of sergeant and received the Commendation Medal and Good Conduct Medal.
After he was discharged, Bruce began his career at UConn in 1972 as a chef and dining hall manager. During his 31 years in this role he would also bring his talents as an executive chef to numerous venues in the area:
Owner/Executive Chef – Thistles A Caterer, Inc (Pautipaug Country Club), Baltic, CT
Perry's Restaurant, Willimantic, CT
Frank Davis Resort, Moodus, CT
Pasquaney Inn, Bridgewater, NH
Willimantic Motor Inn, CT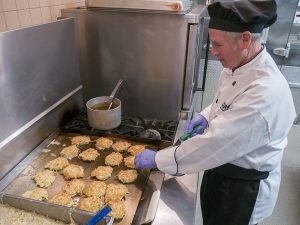 From 1969-1985 he also took on a third job of catering private parties, weddings and banquets for 25-350 people.
In 2003, Bruce received the Dining Services Employee of the Year Award and  became a kosher chef at Gelfenbien Commons Dining Hall. Gelfenbien is the only dining hall on campus that offers a kosher kitchen that is certified by the Kashrut Commission of Greater Hartford. All kosher dishes are prepared under the close supervision of our resident Mashgiachs.
Bruce has been married for 47 years and makes his home in South Windham, CT. He has three children, and four grandchildren.
"Since high school I have enjoyed working in food service, with the changing trends, and working at UConn, especially given the diversity of the students. I have especially enjoyed the opportunity to venture into new and varied menus and ethnic foods."
---