The Environmental Leadership Awards (ELAs) presented by UConn's Office of Environmental Policy, were created as a way to honor those individuals that have truly excelled in their efforts to contribute to environmental awareness and promote progress in our 'green' efforts. These individuals have worked with other groups to make real, immediate improvements in the sustainability of our campus and beyond.
A winner is selected for each of the major categories: Undergraduate Student, Graduate Student, University Faculty/Administrator, and Staff. There are also ELA awards given to UConn-Affiliated Groups (e.g., Clubs, Organizations, Centers or Institutes), Alumni, and Special Recognition/External groups and individuals who have made significant contributions in executing major projects and initiatives for the University of Connecticut.
Presenting the awards was Dr. Gene Likens, UConn's Special Advisor to the President on Environmental Affairs and Distinguished Professor in the Department of Ecology and Evolutionary Biology. Dr. Likens, a world renowned scientist, discovered acid rain.
Congratulations to all the winners!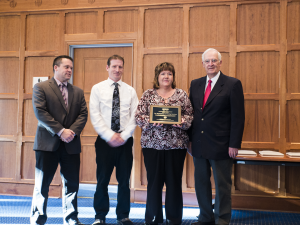 Dining Services Wins the Staff Group Award
Dining Services staff: Rob Landolphi, Mike White, Tracey Roy and presenter Dr. Gene Likens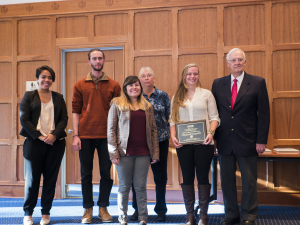 Dining Services' Spring Valley Student Farm Wins the Student Group Award
Julia Cartabiano, Manager of Spring Valley Student Farm, Wins the Staff Award
---