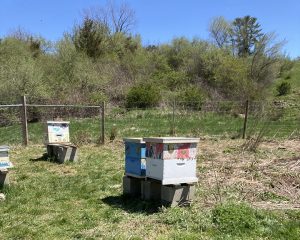 Re-established in 2022, the honeybees at Spring Valley Student Farm are owned and managed in collaboration with the UConn Beekeeping Club. The farm is home to four full-sized beehives and can expect to harvest honey from any of these four hives each year in the summertime. Hive boxes are in the far corner of the farm and are visited once or twice each week for routine inspection and maintenance.
Education and Outreach
No previous experience is necessary to get involved with beekeeping at Spring Valley Student Farm! Anyone interested in learning more about the world of bees and honey is welcome to join our group of beekeepers.
UConn Beekeeping Club will be holding regular meetings and trips to the hives during the academic year. All club events are beginner-friendly and appropriate safety equipment is provided. Please wear closed-toed shoes and long pants to hive visits and wear a baseball cap if possible.
'Bee' Part of the Action!
If you are interested in becoming a beekeeper, please visit the club's UConntact site to send a membership request. Feel free to reach out to any member of the e-board with any questions you may have!
To stay updated on UConn Beekeeping Club's meeting schedule, hive visits, upcoming events, fundraisers, and much more, follow their Instagram page.
To access UConn Beekeeping Club's online datasheet, containing all the information regarding each hive's journey, click here.