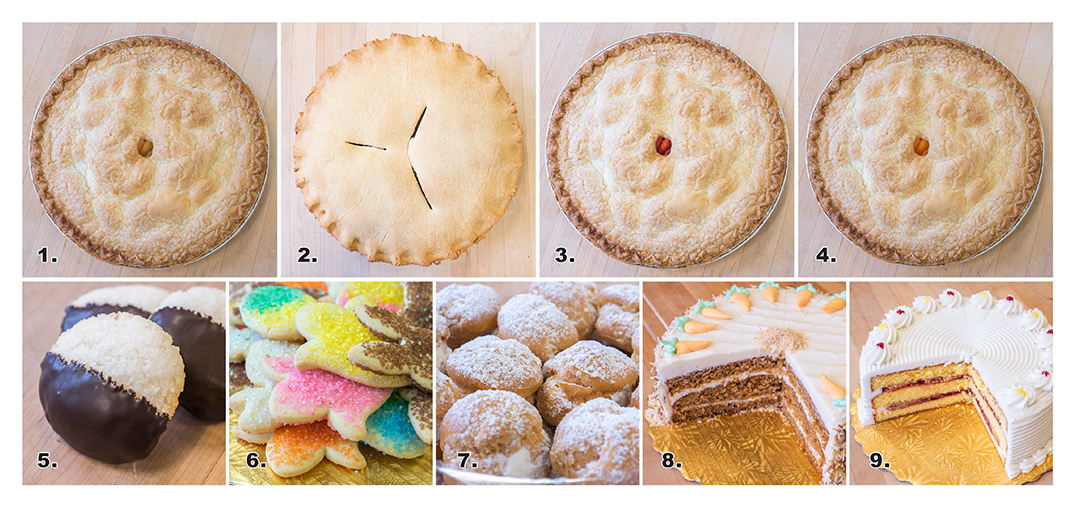 Dining Services is pleased to offer an Easter/Spring Bake Sale. Order delicious baked goods from our own "Not Just Desserts" Bakery. All orders must be received by 4:00pm on Tuesday, March 31st. No orders will be accepted after this date.
CLICK HERE TO ORDER ONLINE (you can check out as a guest and do not need to sign up for a marketplace account)
-OR- PAPER ORDER FORM (please download, print, fill out and hand-deliver or mail w/payment to Dining Services Main Office)
Pick Up: Thursday, April 9th
9:00am – 3:00pm
Dining Services Bakery/Commissary
30 Gurleyville Rd., Storrs CT
Our money-back satisfaction guarantee policy applies. Sorry, no holds or refunds for products not picked up TUESDAY, APRIL 9th. All unclaimed baked goods will be donated to charity.
PIES (10")
1. Apple
2. Gluten-Free Apple
3. Fruit of the Forest – apples, rhubarb, strawberries, raspberries, blackberries
4. Peach
COOKIES
5. Chocolate Dipped Macaroons (1 doz.)
6. Cut-Out Cookie Platter (2 lbs.)
7. Cream Puffs (1 doz.)
CAKES
8. 10" round Carrot Cake – 3 layers of carrot cake, filled with cream cheese icing and toasted coconut, marked into 16 slices
9. 10" round Raspberry Lemon Cake – 3 layers of yellow cake with lemon filling and raspberry jam, covered with buttercream, marked into 16 slices