Hours:
Sunday, Nov. 22 - Tuesday, Nov. 24*
Online orders only, accepted until 4:30pm
Curbside pick-up: 12 - 5:00pm
ORDER ONLINE HERE
*Hours of operation through January 31, 2021 are located at the bottom of this page.

Location:
17 Manter Road
Storrs, CT 06269
Open only for online orders
with curbside pick-up.
11/14/20 Update:

The safety of our community is a top priority for the university. Thank you for your patience, respect, and continued patronage during these uncertain times. The available products and services at the UConn Dairy Bar will be fluctuating over the next few weeks. We invite our customers to order our grocery items online for curbside pickup, and enjoy them safely at home. Thank you!
Dairy Bar History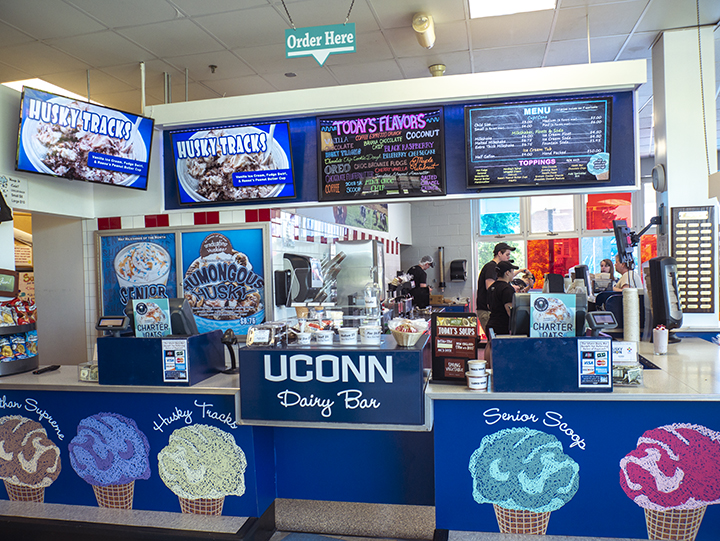 The UConn Dairy Bar opened in 1953 to sell dairy products that were made by the Creamery. The Creamery was established in the early 1900s and bottled milk all the way up until 1991.
Today, the Creamery makes ice cream according to its original recipe and sells this ice cream through the Dairy Bar retail establishment, along with a variety of cheeses.
Hours of Operation
11/19-11/21: Open 12-6:30pm; order by 5:30pm for same-day
11/22-11/24: Open 12-5pm; place orders by 4:30pm
11/25: Open 12-4pm; place orders by 3:30pm
11/26 & 27: Closed
11/28 & 29: Open 12-5pm; place orders by 4:30pm
11/30 & 12/1: Closed
12/2-12/19: Open Wed-Sun 12-5pm; place orders by 4:30pm
12/20: Closed
12/21 & 22: Open 12-5pm; place orders by 4:30pm
12/23: Open 12-4pm; place orders by 3:30pm
12/24-1/31: Closed