Volunteer Opportunities and Tours
Spring Valley Student Farm is open to all. We offer regular guided tours and volunteer hours throughout the growing season. Please join us!
Farm Friday – (during the spring and fall semesters)
4:00-6:00 PM
Spring Farm Fridays begin the 1st Friday after spring break in March and continue until the last day of spring semester classes in May.
Fall Farm Fridays begin the 1st Friday of fall semester classes and continue through the last Friday of October.
No previous experience is necessary! We provide the tools, techniques, and opportunity to explore the fascinating world of healthy local food production. Remember to dress for outdoor conditions.
Questions?
Contact SVSF Interim Farm Manager jessica.larkin-wells@uconn.edu 
Tuesday Tours – (summer only)
3:00-7:00 PM
Every Tuesday beginning the 3rd week of May and continuing through the 2nd week of August.
We invite you to visit Spring Valley Student Farm during the summer! Tours are open to all. The students living and working at SVSF will lead guided tours of the fields, greenhouses, and edible forest garden where we cultivate a wide variety of sustainably grown vegetables, herbs, edible flowers, and small fruits. You will also have the opportunity to learn about our ongoing projects and sustainability initiatives and stay to volunteer if you desire.
Groups Welcome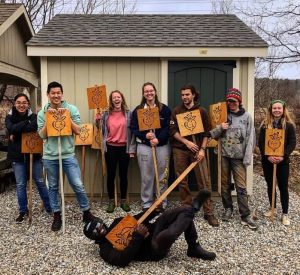 Spring Valley Student Farm welcomes UConn classes, student or community clubs, K-12 school groups, daycare facilities or summer camps to join us for fun and educational workshops or tours.
We prefer to schedule group tours outside of our regular volunteer hours so that the student farmers can give your group more attention.
Please see the Outreach page for more details.
USG: Spring Valley Student Farm Club
SVSF students host weekly club meetings to welcome the UConn community into our "Farm Family" on campus. Students meet on Wednesdays at 7pm in the Sprague Hall basement for a variety of crafts, cooking, and games. This is a great way for students to stay involved with SVSF during the winter months! For more information go to https://uconntact.uconn.edu/.