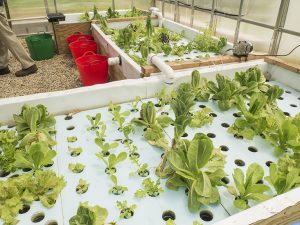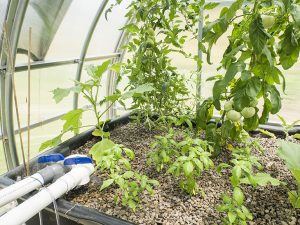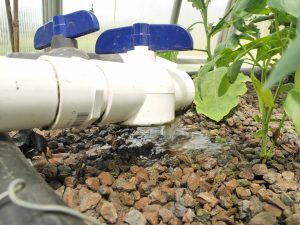 UPDATE: Aquaponics at SVSF is currently on hold, as reduced capacity during the pandemic required us to discontinue the project. We hope to reinstall an aquaculture system next year. If you would like to get involved with planning and design, please reach out to Jessica.larkin-wells@uconn.edu.
What is it?
Aquaponics, the combination of raising aquatic animals and growing plants in water, has become increasingly popular and could be used to replace traditional farming. Aquaponics systems recycle water, reduce waste, and extend growing seasons of plants and animals.
Diagrams done by Chemical Engineering Aquaponics team. Click on images to view larger
Chemical Engineering Senior Design Team 2019-2020 – Aquaponics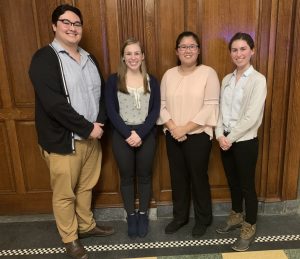 The goal of our project was to design and build a self-sustaining aquaponics system for UConn Spring Valley Student Farm, a part of UConn Dining Services, to provide safe, healthy, and organic vegetables for the UConn community. We found that our core chemical engineering principles applied throughout the modeling and construction of our system. We used thermodynamics to provide heating and cooling solutions that would sustain the life and growth of the plants and aquatic life year-round and used fluid dynamics and unit operations to provide an optimal piping system.
Through the understanding of biological cycles and bioreactor kinetics, we were able to ensure that the crawfish within the system were able to support the plants, and the plants the crawfish. 
Aquaponics has the opportunity to become a leader in the new agricultural era. The continued research and development of such systems like this could help to provide millions of people with the means to sustain themselves with minimal effort, knowledge, and resources. Amid a food and resource crisis in thousands of areas worldwide, it is important that we continue to develop sustainable systems to provide for the always-growing population.
Click here to view the team's Powerpoint presentation.
Decoupled Design