Retail Locations
Check here for the full Thanksgiving Break spreadsheet of hours of operation.
What's Open 11/19-11/27
Friday 11/19
All Cafes (normal schedule) 7:30am-3pm
USM 11am-5pm
One Plate, Two Plates 11am-3pm
Market Cafe 7am-4pm
Earth, Wok & Fire 11am-3pm
Union Exchange C-Store 9am-5pm
Food Truck 11am-2pm
Mango  8am-2:30pm (smoothies menu only from 8-10:30)
Dairy Bar 11am-7pm
Saturday 11/20 & Sunday 11/21
Dairy Bar 11am-7pm both days
Monday 11/22 & Tuesday 11/23
USM 11am-3pm
Market Cafe 7:30am-3pm
Union Exchange C-Store 9am-3pm
Beanery Cafe 7:30am-3pm
Up & Atom Cafe 7:30am-3pm
Dairy Bar 11am-7pm
Wednesday 11/24
Beanery Cafe 7:30am-1pm
Dairy Bar 11am-4pm
Thursday 11/25 & Friday 11/26– all Dining retail locations closed
Saturday 11/27
Sunday 11/28
USM 11am-9pm
Market Cafe 10am-4pm
Union Exchange C-Store Noon-9pm
Dairy Bar 11am-6pm
---
Dining Halls
Semester meal plans shut down after dinner on Friday, November 19th. Residential meal plans will resume on Sunday, November 28th at breakfast. Community Meal Plans stay active during break and can be used at locations that are open. If you are staying on campus during Thanksgiving break 11/20-11/27, please check out the details below for what will be open. If you have a residential meal plan and would like meals during your time on campus, please fill out this form.  Buckley (and all other Dining operations) will be closed on Thursday, November 25th so that our staff can enjoy Thanksgiving with their families. We hope you have a wonderful break!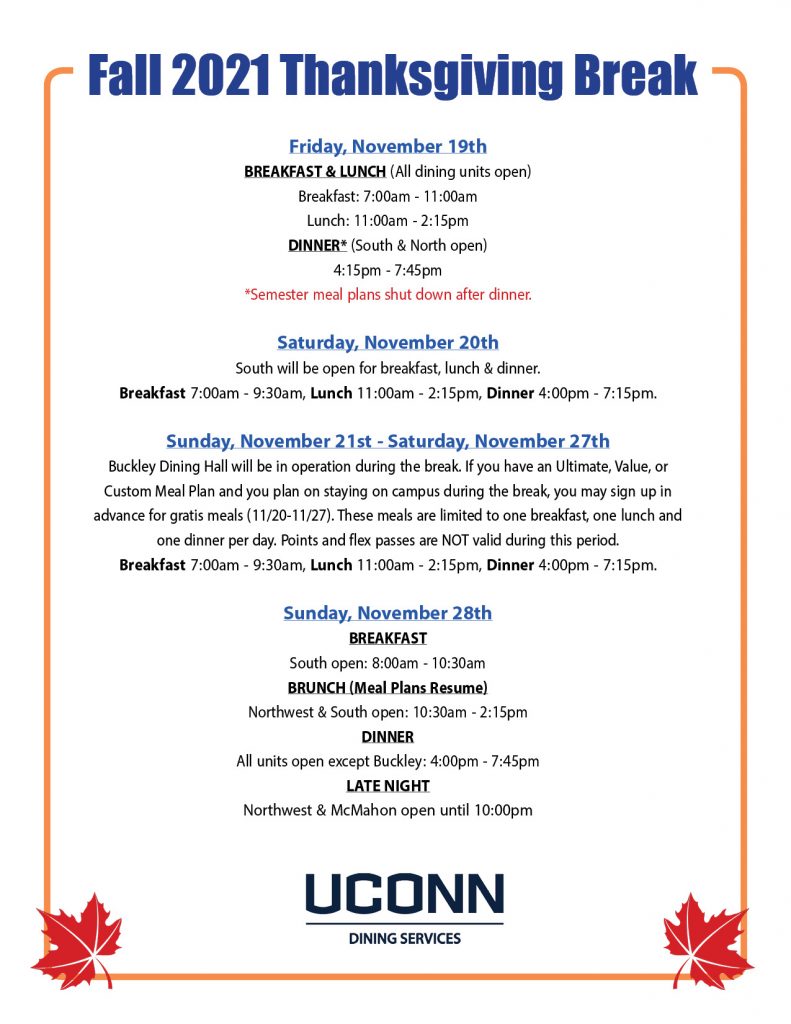 ---